I've always wanted to own a shop and now I finally do...in Second Life. For those of you who don't know, Second Life is a virtual Metaverse in which you can do just about anything you want; some things that you can do in your first life, and some things that you've probably always wanted to do, but your first life just doesn't allow it. First of all, there are cars, but you don't need one to get around. Wouldn't it be great if you could just point to a place on the map that you'd like to go, hit a button and teleport there instantly? Well, you can in Second Life. On top of that, you get to look exactly how you want to. So many shops sell items that help you to enhance your avatar until he or she looks just right. I've opened a new shop to partially contribute to your quest for perfection.
Bloomdrop's Variety Shop offers unique clothing, accessories, textures and other odd-i-tees that you might find to your liking. I'm pretty new at this, so I'm starting fairly low with prices. The biggest thing, however, is the release of my Zany Zodiacs. Zany Zodiacs take your typical astrology and horoscopes to a whole new level. Looking for a fun twist on your cosmic reading? You've gotta check out Zany Zodiacs. More to come on that in the next post...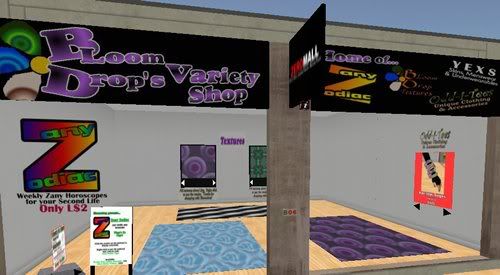 Come by and check out Bloomdrop's Variety Shop. Click here to be directly teleported.
Teleport Me to Bloomdrop's Variety Shop!
(Don't worry, if you don't have a FREE Second Life account yet, you can sign up via this page.)